Today, we're very excited to share with you a number of big announcements, including the first stable release of v2. As part of the new release, we're changing our company name from ArcticDesk to
SupportPal
.
SupportPal - a new name, same great software

As part of our commitment to the product, we have now branched away from our former parent company and set-up a new company called SupportPal Limited, and have also re-named the product SupportPal.
Our philosophy remains unchanged, our aim has always been to offer a cost-effective product that continues to work as you grow; with no increase in costs when you take on new staff. SupportPal exemplifies our commitment to creating intuitive support products that greatly assist in providing better customer support. The new name and logo will begin to appear across our software, and on our website. All future emails to you will be sent from supportpal.com email addresses.
Note:
In order to continue to receive our updates, please check and ensure our emails are not treated as spam.
Please also follow our new Twitter account
@supportpal
, and like us on our new Facebook page
SupportPal Limited
, to get regular updates from us.
And so we bid a fond farewell to ArcticDesk, and now look forward to an exciting future with SupportPal.
Version 2 stable release
The stable release of v2 is now available to all users. Existing v2 beta users can upgrade their beta and RC installations to the stable release directly. Although there isn't a direct upgrade path for v1 users, you can migrate to v2 by using our migration script. More details can be found at the link below.
http://docs.supportpal.com/display/DOCS/Upgrading+to+2.0+from+1.3.3
We are offering a v1 to v2 migration service, to take away the hassle of having to complete the migration yourself. If you are interested in this, please contact
us
.
The new release requires a new license format, keys now begin with 'SP'. We are in the process of providing all users with new license keys for v2; you will receive a separate personalised email when it has been set-up.
Download the release at our
downloads area
. For the full release change log, please read the
release notes
.
New pricing structure
We are simplifying our licensing structure for new customers to just two options: monthly and owned. The option to remove our branding from the help desk has now become an add-on.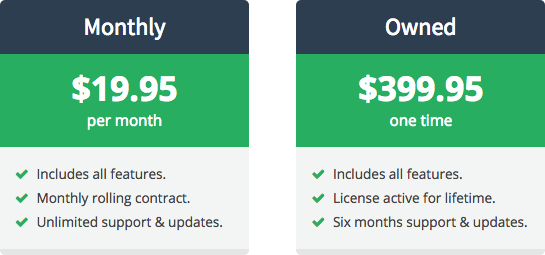 The support and updates renewal on owned licenses has increased to $99.95 for six months. For some time now, we've been making increased investment in the company and the tools we use. The changes made in v2 and behind the scenes will enable us to deliver updates quicker. We look forward to demonstrating the results of these changes over the coming months.
In appreciation of our existing customers, there will be no change in costs at this time. For monthly licenses, the price you pay now will be locked in for the duration of your subscription. For our owned license customers, until the 15th June, we are offering the opportunity to renew support & updates at the old price of $39.95. After that date, the new pricing structure will apply.
End of life set for v1
With the launch of v2, we're announcing the end of life date i.e. the date after which we will no longer maintain or support the release. For the v1 series, this has been set to 15th November 2016. We would recommend all customers upgrade to v2 by this date.
Improved WHMCS Integration
A new version of the WHMCS integration for v2 has been released that contains a simpler interface for configuration and activation. The included README file contains all the necessary instructions, including change of the name of the module to SupportPal. You will need to remove all files from previous versions of the integration before using it.
Download new
WHMCS integration
(login required)