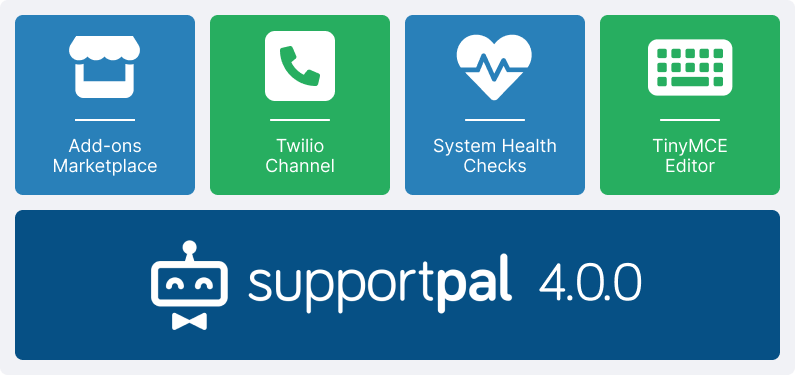 We are delighted to announce the stable release of SupportPal 4.0.0.

The new version marks the culmination of many months of development on useful new features. We've listed some of the highlights of this release below; for full details about the changes since the last major version please read the release notes and 4.0 upgrade guide.
 
Add-ons Marketplace
Add-ons are the collective term we use to describe plugins, widgets, channels, and languages within SupportPal. They are the best way to modify product functionality, and usage amongst developers has been steadily growing.

Today we're pleased to announce our add-ons marketplace. The marketplace enables us, and in the future, third-party developers, to distribute free and paid add-ons. For now, only our core add-ons are available, but we will expand upon our offerings in due time.

Access to the marketplace is available from within the operator panel. Add-ons can be seamlessly purchased, installed, and managed in just a few clicks without ever leaving the help desk. The marketplace can also be viewed online at:
https://marketplace.supportpal.com/


Twilio Channel - SMS, Voice & WhatsApp Support
In 2021, a Sendgrid survey found that the top three preferred communication methods were e-mail (68%), SMS (49%) and social media (46%). The largest social media communication platform is WhatsApp with 2 billion users. With this in mind, we are delighted to expand SupportPal's communication methods to include SMS, Voice (phone calls) and WhatsApp through our new Twilio channel.

The Twilio channel processes incoming messages as tickets that can be handled with the same workflow as existing channels. Operators can seamlessly reply without ever leaving the SupportPal system. Voice is available through a fully integrated phone-support system, allowing you to answer incoming calls without the need to configure a complicated call center. An audio recording of each call is saved on the system as a ticket, making it easy to review later on.

The channel is available through our add-ons marketplace for $5.00/month.

Requires a paid subscription from Twilio.


System Health Checks
System health is designed to give you a clear insight into the overall health of your SupportPal installation and its hosting environment. A traffic light system (red, amber, and green) is used to indicate the severity of issues. The system will automatically notify you of any serious issues that require immediate attention.


New WYSIWYG Editor
The built-in editor has been replaced with TinyMCE. We believe the switch will provide a more reliable, and robust experience for users across all of their devices. The editor experience is largely similar to before, and a few nice features have been added like emoji autocomplete support.