We are pleased to announce the stable release of SupportPal 2.1.1, the first maintenance version in the 2.1 series. The release contains many improvements and bug fixes, some of which we have detailed below.
Download the release at our
downloads area
(login required). View the full changelog in our
release notes
.
Support for the 'Reply-To' email header
The 'Reply-To' header is often used when email is sent from an automated system on behalf of someone else, for example a contact form on a website. SupportPal can now process this email header and use it instead of the typical 'From' email address when setting the user on an incoming ticket.
This is disabled by default and needs to be enabled by going to Settings -> Tickets -> Channel -> Email Settings and toggling the 'Prioritise Reply-To' option.
Drag and drop attachments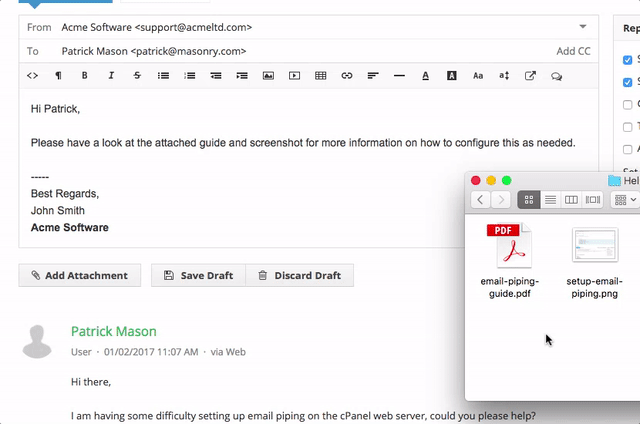 Dealing with attachments has become a lot easier as you can now drag and drop files directly onto the page and it'll automatically attach them to the ticket reply or article you are writing. It works in all modern browsers and supports multiple files at once.
Other notable improvements
Various performance improvements throughout the help desk.
Ticket notes no longer use the default reply option settings.
Ticket escalation rules are now visible in a tab in the ticket view to show when they are scheduled to run.
Desktop notifications are now linked to the relevant ticket.
SimpleAuth will now create an account if the user doesn't currently exist.
Tickets API now accepts the user email directly instead of user ID, creating a new user if it doesn't currently exist.
A new version of the WHMCS integration has been released to provide better performance when running WHMCS 7.1.