We are pleased to announce the stable release of SupportPal 2.1.2, the second maintenance version in the 2.1 series. The release contains many improvements and bug fixes, some of which we have detailed below.
Download the release at our
downloads area
(login required). View the full changelog in our
release notes
.
Email subaddressing support
Email subaddressing support allows you to remove the ticket number references from email templates that were traditionally required to ensure replies were imported to the correct ticket. This enables you to simplify your email notifications, and produce clear, unobtrusive emails that don't appear like they've originated from a help desk.
Note: This feature is dependent on email server subaddress support, available on most modern email servers, and must be enabled before use.
Read documentation
More detail on the ticket grid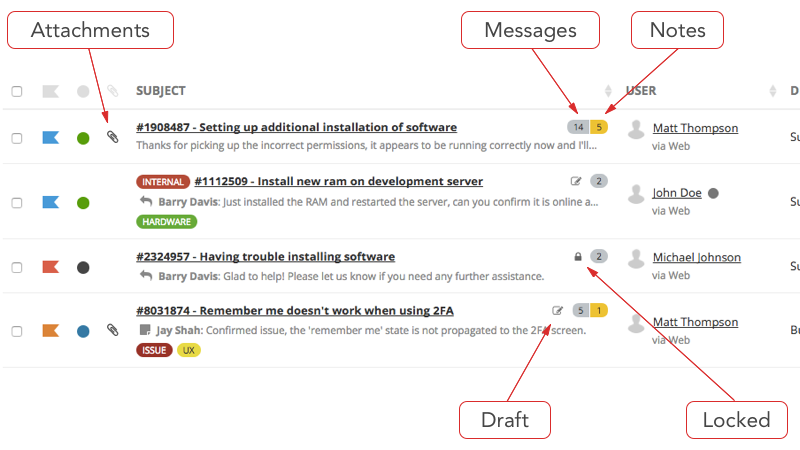 We've added a number of new icons to the ticket grid to make it easier to see at a glance what's going on:
An attachment column indicates if a ticket has one or more attachments, and can be hidden if not required.
The total number of messages (shown in grey) and notes (shown in yellow).
A draft icon indicates whether any operators have started to write a reply or note.
Better search results
The operator panel search now uses feature-rich ticket and user grids to display matching results. The grids show more detail than before, allow you to perform actions on tickets and further filter the results with ease.
Other notable improvements
Ability to create a new user and change ticket ownership directly from the ticket view.
'Time ago' dates now update in real-time as you're viewing the page.
You can now disable or select different operator email templates per department.
A custom display name can be defined for outgoing ticket related emails per department.
Improved Kayako migration, new Sirportly and WHMCS migration options
We've released a significant update to our SupportPal migration client, adding support for migrating from Kayako v4, Sirportly and WHMCS v7 directly to SupportPal. This is an improvement on our previous migration script for Kayako, reducing the number of steps required and improving performance with larger amounts of data.
Download migration script
(login required)
Read documentation