We've been hard at work, since our last release, bringing you what will be our biggest update since launching SupportPal. The single most requested feature since our launch is for handling support requests for multiple companies. We're pleased to announce that SupportPal 2.1.0 will include this functionality, which we're calling
brands
. In this preview, we give you a rundown of how it works and why it's useful.
Many frontends, a single backend
The benefit of a multi-brand help desk is that it allows you to support several brands from a single unified backend. This helps to reduce costs and eases management of the system.
Each brand has its own personalised customer portal, with the ability to set a unique template and logo. These frontends are completely separate, your users won't know that the brands are connected at all.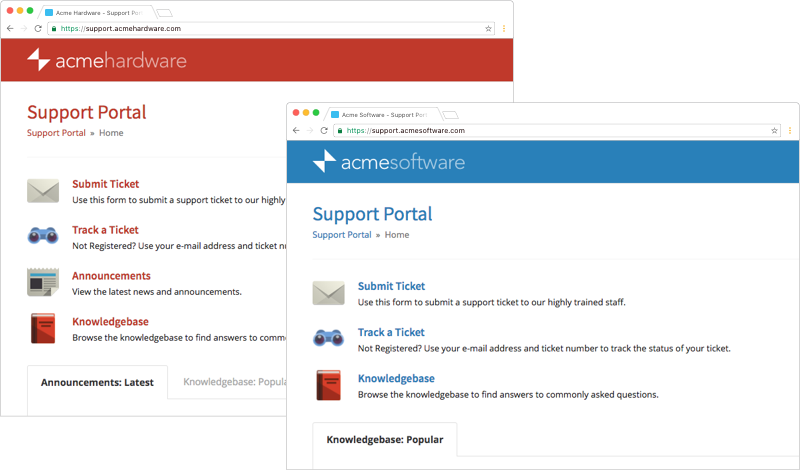 Each brand also has a unique self-service area, with its own types, categories and articles. Articles that are relevant to multiple brands can be shared to avoid duplication of content. User and ticket custom fields allow you to collect different information depending on the brand.
Departments shared over multiple brands
Companies with multiple brands will often have staff that answer support requests for more than one brand. Departments can now be assigned to brands, and brands assigned to operator groups, giving a lot of flexibility in choosing who can access what.
Users and organisations are split per brand
Users and organisations are registered per-brand to ensure that each brand appears as a separate entity to the user. This enables different information to be captured for the user and organisation profiles, and also allows the use of
SimpleAuth
for each brand.
To find the same user across brands, it is possible to filter by e-mail address if, for example, you need to find tickets across a range of brands. The system will also let you know if a user has an account under a different brand and show tickets under different brands in the sidebar of the ticket view.
Per department and brand signatures, per brand email templates
A feature that several users had requested separately was the option to create context-specific ticket signatures, in the same way you might have a different email signature for each email address you have.
The option now exists to create signatures for a specific (or any) department and for a specific brand. The system will decide if any such signature fits a ticket when going to reply and fall back to the default otherwise.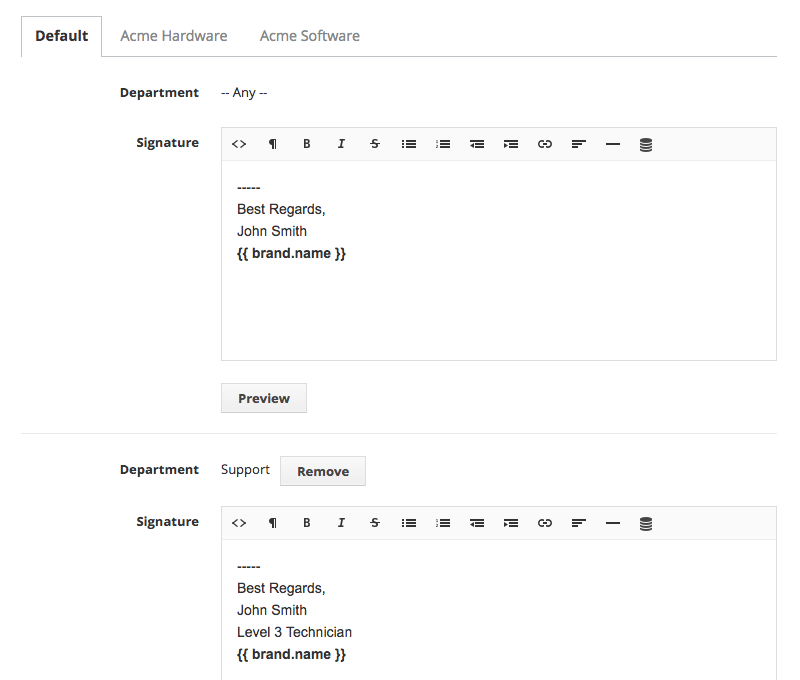 Similar to signatures, it will also be possible to create email templates per brand, allowing you to properly personalise emails sent by the system based on the brand.
Multi-brand licensing scheme
By default, all licenses will include a single brand, additional brands will need to be purchased individually onto your existing license as and when you need them. The price will be
$9.95 per month
for monthly licenses or
$199.95 one time
for owned licenses for each additional brand. We believe this is competitively priced and good value for multi-brand support, it is cheaper and easier to manage than several individual help desks.
No need for brands?
We're aware this feature isn't for everyone, so we have tried to keep the interface as close to as it was if you only have a single brand. Even if you do not need it at the moment, the option will at least be there in the future if the need ever arises.
What's next?
We hope you enjoyed this preview, though it's not all that we have to offer. We'll be posting a second preview next week announcing the other major changes in this release and the release schedule.